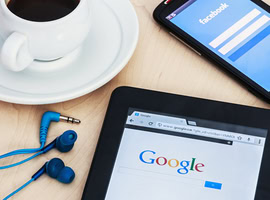 Fortune's "How Google and Facebook Have Taken Over the Digital Industry" article provides a great breakdown of the Interactive Advertising Bureau's 2016 digital ad spending report – and where all those dollars are going.
Spoiler: 99% of it is going to the two companies noted in the article link above.
For advertising agencies and consumer brands, staying up to date on the latest innovations from Google and Facebook will be essential for staying top-of-mind with consumers – especially as both companies continue to expand their search, targeting and mobile capabilities. These two online giants are leading the way for a reason. This isn't to say other social networks like Twitter and technology companies like Snap Inc. should be ignored – as both companies are looking to get their slice of the consistently-growing digital advertising spend pie. It's an exciting time for advertisers and agencies as these digital leaders evolve how brands can target consumers – while not interfering with the end-user's experience.
Quick tips for staying up-to-date with innovation in the digital ad space
Keep up on your network relationships with Google, Facebook and other ad solution providers: Make sure your media team or agency is maintaining ongoing communications with representatives from Google and Facebook, as well as other digital advertising solution providers like LinkedIn and Twitter. Their customer success representatives can help keep you informed on the latest and greatest offerings, as well as provide valuable input for campaign planning. Many companies have dedicated teams for exactly these types of ad-agency relationships so make sure you're taking advantage.
Subscribe and read:

Subscribing to advertising and digital industry websites is an easy way to stay up to date on the latest news – all delivered to your inbox in time for your morning coffee or tea. And using Google Alerts, can help make it easy to keep pace with new digital advertising and programmatic info in real-time.