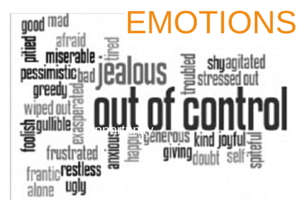 Here are three reasons WHY the emotional connection – the heart and mind of the consumer – is important along with my thoughts on what to do with the information. These points were taken from the December 30, 2014 social media examiner.
Consumers expect brands to be active on social media. Depending on the age group, the expectation is for activity on 2 to 4 different channels.
The specific channel expected also varies by age group, with Facebook and Twitter leading the way. (It is interesting that Twitter is number 4 for the over 60 group.)
So What?
When customers see a brand engaging on social media, they believe that that brand is dedicated to the customer.   This is true especially when the brand allows criticism. Consumers have more respect for brands that encourage this.
What Now?
For your specific target, determine which social media channels are most expected. Whichever one(s) you choose, give them your full attention.
Consumers want relevancy. Understand the passions, the interests, and the emotional appeals of your consumers.
An examination of companies that have the most loyal following on Facebook shows that the message can enrich the consumers lives. They include recipes, photos of children, crafts, and desserts.
So What?
Deliver entertainment and enrichment on social media. Look for brand advocates in helping deliver the message.
What Now?
Get a better understanding on your customer's interests and passions. Focus on their needs and only when appropriate touch upon your brands products.
 There more compliments on social media than there are complaints. Especially in the 30 – 45 age group, they are connecting with companies to express their gratitude, and get guidance.
There is a price that comes with this. Consumers expect fast response – over half want it is less than one hour.
So What?
Consumers want to connect. Use their comments and criticisms to strengthen the brands image.
What Now?
Make it easy for the customer to reach you. Respond quickly. There are tools like Houtesuite to help gather the information.
People are highly personal and conversational. They go to social media sights to connect with friends, be entertained, and have fun.
Research shows that over 60% of consumers say that social media has no influence at all on their purchasing decisions.
So What?
Social media is not the best channel for "selling". This does not suggest there are not specific uses for social media such as gaining awareness and interest for the product as part of the consumers purchase journey.
What Now?
Brands need to be in the entertainment business – deliver helpful and relevant comments. Educate and inform. Give consumers a better understanding of your values and beliefs. Be the kind of brand or company that a consumer wants to associate with. Align your brands values with the customers. Remember, you cannot be all things to all people.
The Bottom Line
Marketers know that an emotional attachment is a very strong connector. Social media is a great place to make that emotional connection. Companies need to learn more about the heart and mind of their customers.