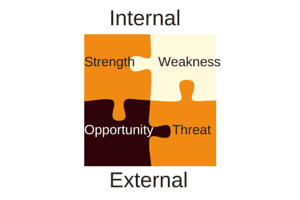 The SWOT analysis is a marketing tool to help us decide on the profitable action we can take. There are two steps that I use to make my SWOT analysis even stronger.
The first is to make sure that when I think about the external opportunities and threats, I think about what is happening outside of the industry that I am examining. I am thinking about what could affect both the company or product, and all of the competitors. This could include social and economic trends, technology changes, and regulatory. For example, if the average age of consumers is trending older, this may affect the whole industry. If I find a relevant point, I can eliminate it as a threat or capitalize on it before the competitors.
I put any discussion about competition in the internal section. For example, if there is an increase in the number of competitors, it may be a weakness that I have to take into account. This external analysis also forces you to expand your out-of-the-box thinking to points that you may have forgotten.
Once I have listed as many points as I can in the four boxes, the work has just begun. The second step is to go through each point and ask myself – So What? Could this point have a bearing on what I do in the future? You may find that most of the points are interesting, but not relevant. If you come up with six or eight strong points, that is great.
Take your relevant points and ask yourself – What Now? What action could I take based on each of these points that could result in more profit for my company or product? There may only be three or four actions.
Remember the purpose of the analysis is to find key next steps that you can take to increase your profit. If you get to that stage, then the tool has been successful.
Remember, once your SWOT has been completed, it is now time to kick in your right brain thinking.